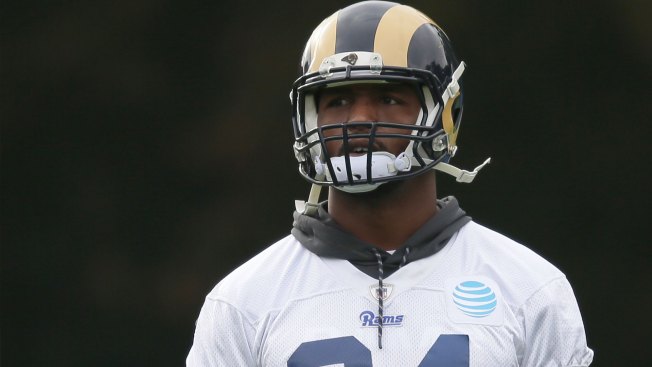 Rams coach Jeff Fisher said on Monday that defensive end Robert Quinn was still undergoing tests after being admitted to the hospital on Monday morning with an undisclosed medical condition, but that all signs were encouraging about his overall health.
Quinn made his sixth start of the season in Sunday's 9-6 road win over the Jets, registering an assisted tackle and two passes defensed. The Rams did reveal that Quinn was admitted with a non-football related illness, and is now in stable condition. "He's feeling much better", Fisher said during his weekly media availability from the team facility late in the afternoon.
Per Fisher, it is "highly unlikely" this particular issue is related to anything from Quinn's past. He also played in just eight games a year ago because of a back injury that ultimately required surgery.
He was a first-round draft pick in 2011. Quinn has been living with a tumor at the base of his brain for a number of years, which doctors chose not to remove during an operation he underwent as a teenager. But his two missed games this season were merely a product of shoulder and neck injuries. "He was fine after the game", Fisher said of Quinn. "And I think both of them have a chance to play".