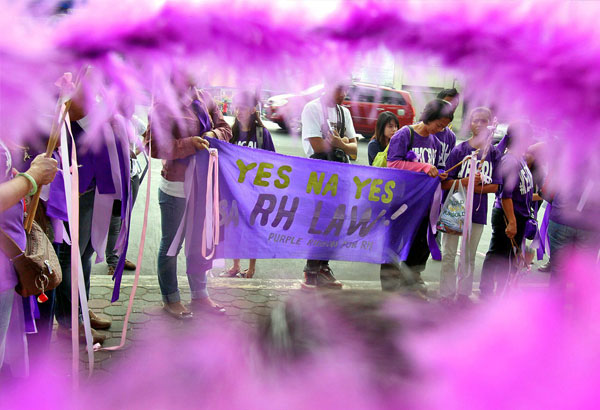 President Rodrigo Duterte has signed an executive order intensifying access to modern family planning amid a Supreme Court temporary restraining order (TRO) on some provisions of the Responsible Parenthood and Reproductive Health Act (RPRH Law).
The Cabinet official said the implementation of the RPRH law "got stymied" due to the petition filed by pro-life groups before the SC.
Socioeconomic Planning Secretary Ernesto Pernia told reporters on Wednesday that Duterte signed executive order no. 12 on Monday, January 9.
"The EO is really for modern family planning services, modern contraceptives to be adopted by women of reproductive age", he said in a Palace press briefing.
This way, Pernia said the government would also be able to bring down the poverty rate by 14 percent by the end of the Duterte administration.
The strengthening of the RH Law implementation is part of the Duterte administration's 10-point socio-economic agenda to "enable poor couples to make informed choices on financial and family planning". So there are many objectives that can be achieved by implementing the RP/RH Law having to do with life: "life of the mother, health of the mother, the health of teenagers as well as you know, births that are wanted", he said.
A national implementation team for the RPRH law will submit to the Office of the president an annual progress report six months after the effectivity of EO 12 and thereafter at the end of every April.
The almost 2-year-old temporary restraining order (TRO) prohibits the Department of Health (DOH) from approving new registrations for contraceptives.
The SC issued a temporary restraining order (TRO) on the RH law on June 17, 2015, after the ALLiance for the Family Foundation Philippines (ALFI) had argued that "implanon and implanon NXT", among the contraceptive drugs and devices covered by the said law, have abortifacient attributes. But, of course, we in the government, we think differently, just the opposite.
"But with this EO from the President, we hope that the Supreme Court will act expeditiously in terms of lifting the TRO", the NEDA chief added.
The president ordered the Department of Health, Commission on Population, Department of the Interior and Local Government (DILG) and other relevant government agencies to collaborate with all local government units (LGUs) for the implementation of the RH Law.
The executive order directed the Department of Education to implement a "gender-sensitive" and "rights-based" comprehensive sexuality education in the school curriculum.