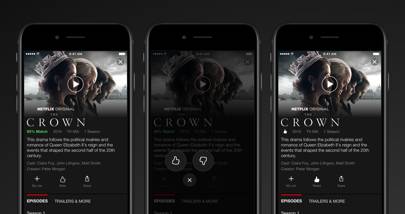 LG Electronics Inc. said Tuesday that the USA -based video service provider Netflix has recommended its smart televisions released this year as the most suitable platform to enjoy its entertainment content.
On a press trip held at the company's Los Gatos, California headquarters, Netflix toured journalists around an entire office floor packed with displays as far as the eye could see, cluttering every corner and unused cubicle.
A total of three manufacturers are part of this year's Netflix Recommended TV programme - just as last year - including LG, Samsung, and Sony.
In its announcement, Netflix added that this year's models have improved on usability, and performance, apart from bringing in new features that allow users to get to Netflix and other Internet apps quicker than before.
"As with previous years, Netflix Recommended TV continues to evaluate whether Netflix is easily accessible from wherever you are within your TV menu, including having a Netflix button on the remote that can turn on the TV and go directly into Netflix within a few seconds".
In 2016, LG's 2016 4K UHD TVs with webOS 3.0, Samsung's 2016 4K SUHD TVs and all 2016 Sony Android TV models made the cut. Netflix also verifies whether the device comes with the latest version of Netflix and includes our newest features.
That line of thought did result in the genesis of Netflix Recommended TVs, however, which achieves the dual-purpose of providing guidance to super fans and the TV industry at large, without necessitating a move into hardware. "I think not only is that not strategic, but we'd probably be awful at it".