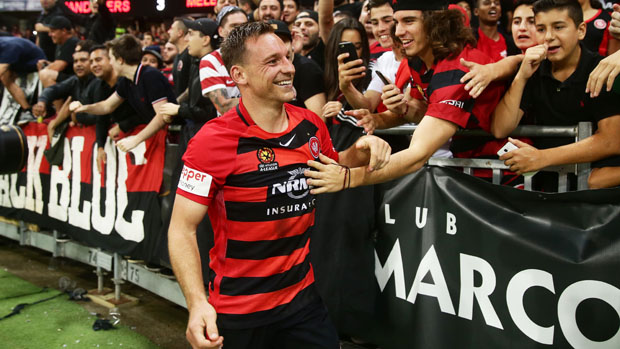 Although the Wanderers have seen a bit of a resurgence during the back half of the season and are the only side to hold a victory over the minor premiers Sydney FC, the Roar should prove far too strong in Queensland.
"It was a very courageous effort when you put it into perspective with ten men and the boys were dropping down in the last few minutes".
The game went to extra time and when late sub Jaushua Sotirio was pinged with a second yellow (103'), Tony Popovic's men were down to 10. "I've waited the whole year".
"We could see his fresh legs and speed was hurting Brisbane".
"A lot of things happen in sport and we have got a squad that can go all the way".
The first half was dominated by the Wanderers whose midfield controlled and dismantled Brisbane's, who started poorly and without direction. "Just before he got sent off he created a great chance for Santa, Jamie Young came on and made a great save", Popovic said.
But with a potential penalty shootout looming Theo was subbed injured on 98 minutes and Jamie Young took the gloves - immediately thwarting a Wanderers attack. Melbourne City and Perth Glory met in the final round of the season at nib Stadium last weekend and the result was one of the most freaky games in the A-League's 12-year history; it ended 5-4 in Perth's favour.
The veteran keeper pulled out a double-stop that turned back the clock in the first five minutes, stretching first to deny Brendon Santalab before blocking a follow up from Nicolas Martinez seconds later. It was a pattern that would last most of the half as the visitors poured on the pressure.
It looked as if Western Sydney's dominance would go without reward before Avram Papadopoulos felled Santalab in the box on the stroke of halftime. They eventually equalised in the 55th minute after Jamie Maclaren found himself in the flawless position to tap home the goal.
Borello, D'Agostino, Maclaren, DeVere and Kristensen all landed their penalties while Wanderers aces Antonis, Dimas, Martinez, Hammill and Cornthwaite all matched their Roar counterparts. Brown nearly scored against just seconds later, with Janjetovic brilliant again.
The rejuvenated Roar, willed on by their home support, nearly found a decider with fifteen minutes to go, with Holman pulling a great save out of Wanderers goalkeeper Vedran Janjetovic, before a follow up by Borello was cleared by Scott Neville.
Both sides had their chances to win it in a frantic finish to regulation time - Borrello even managed to hit the crossbar twice with one shot in the 89th minute, which had first been parried by Vedran Janjetovic. It would be one of the most crucial moments of the night, with his cameo from the bench soon ending with a send off.