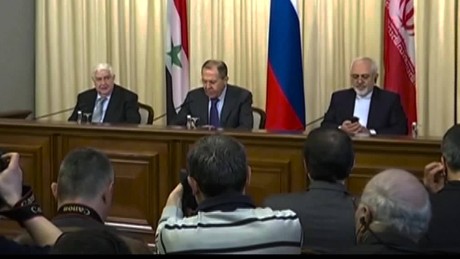 A USA official says that Syria has moved all of the aircraft from the airbase that was struck by US missiles two weeks ago to an airbase used by Russian Federation for missions within Syria.
Syrian President Bashar al-Assad still possesses up to three tons of chemical weapons, Israeli defense officials have said.
The US responded to the alleged attack by launching "warning shot" air strikes on a regime-controlled airbase near Homs a few days later which killed six Syrian servicemen.
France has said it will provide evidence within days that the Syrian regime was behind the chemical attack which killed more than 80 people, including up to 30 children.
In an exclusive interview last week with AFP in Damascus, Assad said the suspected chemical attack was a "fabrication" to justify a United States missile strike on Syrian forces.
Also Wednesday, multiple Israeli defense officials told the Associated Press that Assad still has up to three tons of chemical weapons.
There is also evidence that ISIS and other terror groups may have acquired some of these chemical weapons.
The Syrian government has relocated the majority of its warplanes in close proximity to Russian army bases in order to protect them against potential USA strikes, two U.S. defense officials told CNN on Wednesday.
He spoke on condition of anonymity under military briefing rules.
In doing so he assuaged the global conscience wilfully violated by the obnoxious pictures of the dead from Assad's despicable chemical attack.
Russian President Vladimir Putin said April 6 that groundless accusations in the chemical weapons incident in Syria's Idlib were unacceptable before the investigation into the matter had been carried out.
We review the key developments in Syria, including a chemical weapons prohibition watchdog confirming the use of sarin in the attack on Khan Sheikhoun, the Syrian government moving its jets from Shayrat to a Russian base in Latakia, and delays to convoys of evacuees from Fuaa, Kafraya and Zabadani.
U.S. Secretary of Defense Jim Mattis initially said 20 percent of Syria's air force had been destroyed in the cruise missile attack, but later backtracked and said that 20 aircraft had been rendered inoperable.
Syria disclosed its chemical weapons stockpile amounted to some 1,300 tons of sarin, VX nerve agent and mustard gas, among other chemical agents. Israel welcomed the strike on its northern neighbor.
He said in a statement that further results would follow, but that "the analytical results already obtained are incontrovertible".
Spicer had to later clarify that if the barrel bombs-a weapon routinely used by Syrian forces-contained chemical agents, then a military response would be possible. But doubts began to emerge soon afterward that not all such armaments or production facilities were declared and destroyed.