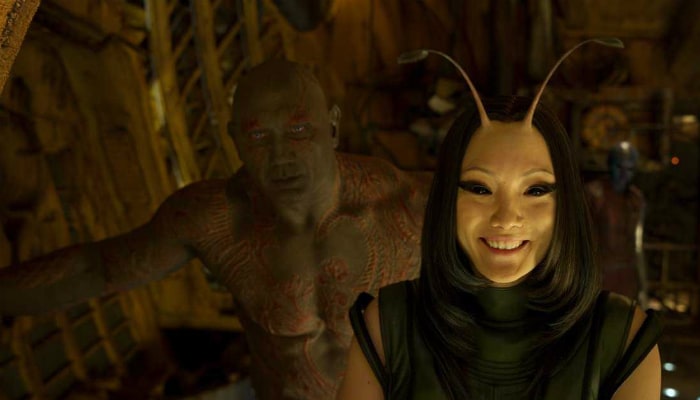 It's the second biggest launch weekend for a 2017 movie after "Beauty and the Beast", which opened with $174.8 million on March 17-19, and the fifth largest opening for a Disney-Marvel film after "The Avengers", "Avengers: Age of Ultron", "Captain America: Civil War", and "Iron Man 3". Directed by James Gunn, this American superhero film is based on the Marvel Comics.
The film's ensemble cast-led by Chris Pratt and co-starring Dave Bautista, Zoe Saldana and the voices of Vin Diesel and Bradley Cooper-all reprised their roles in the sequel.
Summer blockbuster season kicked off this weekend with another Marvel movie. It made more than $106 million in its first weekend at 58% of overseas territories.
In fourth was Pantelion's How to be a Latin Lover, a comedy starring Salma Hayek, Rob Lowe, Kristen Bell and Mexican actor Eugenio Derbez, with US$5.3 million in ticket sales.
And at No. 3 is the film that just won't go away, "Boss Baby" is back in the top three this week, bringing in an estimated $6 million.
Guardians of the Galaxy Vol. 2 has now pushed the Marvel Cinematic Universe past $11 billion in combined global grosses, according to Disney. Still, the $145 million estimate, courtesy of Box Office Mojo, is a solid start to the summer movie season, with the movie earning an impressive $33,368 per-screen average from 4,347 theaters.
Guardians of the Galaxy Vol. 3 is now being developed.
ComScore also released the estimated ticket sales from Friday to Sunday at USA and Canadian theaters. The Beauty and the Beast remake has already staked a solid claim with its nearly $500 million domestic total, and the next Star Wars movie will most certainly follow The Force Awakens' push past $500+ million to be the year's top earner. Finally, Going in Style and Smurfs: The Lost Village finished in ninth and tenth place with $1.9 and $1.8 million respectively, bringing both of their totals to an identical $40.6 million.
"Smurfs: The Lost Village", $1.8 million ($5.6 million international).
"Baahubali 2: The Conclusion", $43.9 million.